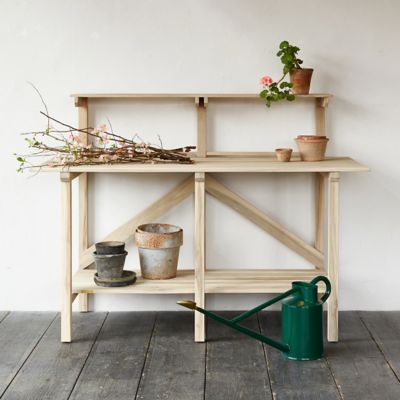 This is from TERRAIN … one of my favorite places.  I like the space but really is pretty ordinary?  How difficult can this be with repurposed wood?
My make shift table/? on our deck is slowly falling apart…It is an old school lab table found at the Flea market with a shelf from another old display piece from an antique store… So where should I go to find a replacement…
Habitat for Humanity…Springfield Flea Market Extravaganza is in May?  The search is the most fun.
SPEAKING of SEARCHING…I am searching for LISTINGS!  CRAZY time to Sell.  And where will I move after my house is sold is a common question.  There are several options: 1.  Rent back from the new owner until you find suitable housing  2.  Write the contract contingent on seller finding housing.  3.  Move in with family…it can be a solution?  4.  Start looking as soon as you list your property.  Some sellers will take your offer contingent on the sale of you property but you at least have to already have your property listed on the market.  As my mother…yes, my mother always says…"Where there is a will, there is a way!"  Contact me, I would love to work with you.